"Every line means something" – Jean-Michel Basquiat
There must be something in the Harmattan , over the past few months as I have been thinking about written language, mark  marking , "vernacular architecture" and various aspects of how peoples make and communicate meaning from the material they have their environment.  Not only have I been thinking about these things, but something in the Harmattan wind and dust that blows over West Africa this time of year, kept blowing things my way.
Around that same time, I had been reintroduced to Ron Eglash's work on fractals, which involved some of the complex mathematical principles at work in numerous aspects of West African life and culture. Seeing Eglash's articulate so many things that  we have become so used to seeing, but never quite saw the complexity in it really made me think hard about other things that we take for granted yet are highly complex and involve complex thinking and being. See Eglash's work here  , here  , here  and here 
Another string of thoughts that blew on the Harmattan's winds came by way of a blog named Renegade Futurism run by Dr. Nettrice Gaskins, a post from a website called Another Africa ( a piece on African Writing Systems, highlighting the work of Zimbabwean typographer Saki Mafundikwa, peep his work here , here , here and here) and an online conversation I was having with another poet about the Cursive Hebrew and Kongo Cosmograms (see here and here ) in the First African Baptist Church of Savannah, Ga (where my grandma was from).
This all came to head for me when my wife and I were in Segou, Mali, for Festival Sur Le Niger, a music and art festival along the banks of the Niger River in Segou, Mali, 3 hours north of Bamako.
Segou , was the capital of the Bambara Empire. My introduction to Segou was from Marsye Conde's  novel of historical fiction Segu, which I first got hip to working at the late Karibu Books. Although I never got through the whole book (I just started reading it again when I moved to Bamako), from the little bit that I did read I have been able to envision what that world might have looked like.
In addition to the obviously awesome people and music we experienced while in Segou, we had the opportunity to meet the ladies of the Sinignessigi Atelier & Boutique. These ladies specialize making eco-friendly Bògòlanfini (mud cloth) and other handmade textile items. While browsing their workshop and boutique I saw these signs that explained what the lines meant, they were translated in French, English and Bamanakan (Bambara); "every line meant something." Although these lines made beautiful designs, it was nice clear that all the lines and patterns on these textiles had specific meanings and were a language that communicated something to the viewer and owner of the cloth. In a way I have always known that these designs had deeper and more intentional meanings, but I cannot quite explain the feeling that came over me to see it spelled out, made plain.
It was similar to the feeling I experience way back when I found out the significance of quilts as communication objects in the in the African American resistance to enslavement; every stitch meant something.
I wish I had taken pictures of the text and some of the cloths inside the boutique, but I was trying not to be so intrusive, as well as soak in the somewhat sacred moment when your receive a breakthrough, a new revelation, or when the pieces of things you have been thinking about for a long time come together in such a serendipitous manner. All in due time.
I have only been in Mali since early October 2013 and so far the experience has already been an enlightening and humbling experience…I am looking forward to the journey forward, onward and upward.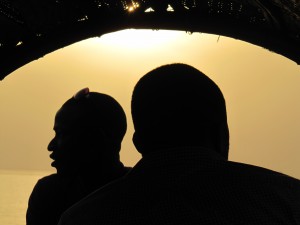 photo by my wife, Melanie Spence Joiner
Some other references:
Nettrice R. Gaskins: check out her whole blog but here are some recent highlights
 Africa in The Matrix: STEAM, African Futurism & Myth
Techno-Vernacular Creativity: Shotgun Homes & Porches
High-Tech Textiles & the Syncopated Rhythms of the African Diaspora