Every once in a while I get reminders of how small and wonderful the world can be…be warned fellow technophiles and gadgets freaks this post is not about technology as we know it. No this is more about that ancient advanced idea of opening yourself up to new ideas, new experiences and new people. Today was a lesson for me to continue to be open to these types of opportunities. As some of you may or may not know I don't not swim…elegantly…at all. In fact if you ask my wife she will tell you that I do not swim. However I always say to her and to those she tells I cannot swim, "if you through me in some water I am going to find my way out." This usually precipitates a nice laugh on all of our parts. Well today a friend I will call Bil, Melanie, once of Mel's Peace Corps friends and me decided we would take an uncertain boat ride across the Niger River to an island owned by Salif Keita. Now Melanie and I have had quite a few experiences on water: para-sailing in Hawaii, small wooden speedboat trip to Tobago Cays from Carriacou (don't do this), assorted ferries Lewes to Cape May, Grenada to Carriacou, etc, so I totally trusted our judgement in making this decision.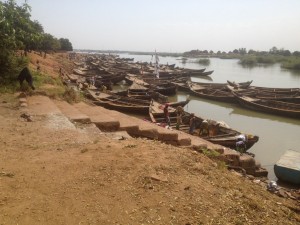 I must however admit that what I know about boating in this part of West Africa did not instill much confidence in me, but knowing that this men AND women use these boats for their livelihoods meant more to me than my somewhat cushy ideas about boats. Turns out the boat that we were to take was a metal boat (which made me a feel a bit better) and the trip was only 2-3 minutes. Cool ! I am ready…we are off… Below is a shot of us approaching the island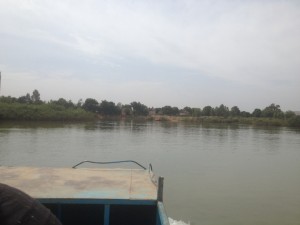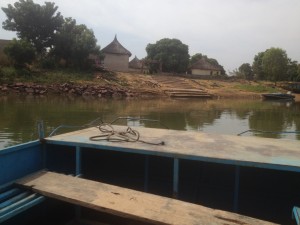 This is me enjoying the ride…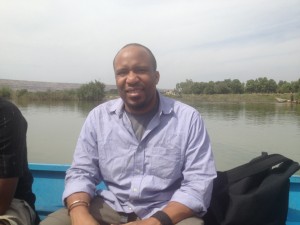 So we get to the island and we are greet by a man whose name I did not catch…I did not take his picture because I was not sure he would like that but is was very nice. He explained to us that that the island was not official open for business but we were "welcome to come and sit and Salif Keita would come to greet us later." WAIT!?!?! WHAT!?!?!  encore s'il vous plait!!?!?  I Ko Di?!?!?! The he said again (en Francais) "He will come greet you all soon (soon can mean a long time in Africa, but I was willing to wait)!" At this point I did not care what else was going on here on this island that fact that I was going to meet Salif Keita…So we sat under a thatch canopy and chilled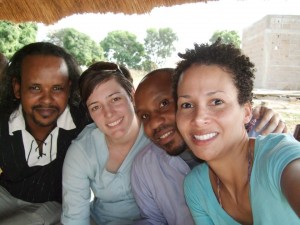 About 20 minutes some friends Bil's who we had run into at a bar earlier showed up, with them was a very distinguished looking man who I later found out was Afel Bocoum , whose music I just learning about today…get hip..he was the one of the most gracious and humble people I have met since I got here, which is quite a feat because I have met quite a few gracious and humble folks…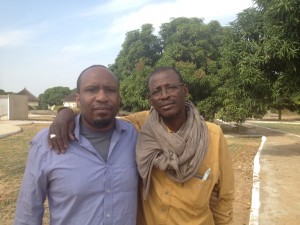 After a brief walk around the island to check things (Gazelles, Caymans, and the a beautiful grove of mango trees) out we came back to our canopy to a feast of  mouton, onions and mustard along with some great french bread and an assortment of homemade drinks including my favorite jus de gingembre ( ginger juice). Of course, after the music a gregarious, lively brother from Burkina Faso says to all of us " how can there be all of these artists and no music!' Someone then gets up and goes into Salif Keita's bungalow and gets one of his very nice Gibson acoustics and hands to Afel Bocoum, who then treats us to some of his music and then passes the  guitar to other musicians one of which (Ismail) proceeds to play sing a Tracy Chapman song and a Led Zepplin song in perfect English, another plays a song by Green Day and a song by Oasis  in English and the yet another talent brother named Ibrahim who sand to us in Bamanankan and another language that I could not identify… it was quite a surreal feeling to be in such an intimate setting with such talented people and to hear some many languages being spoken and despite not totally understanding all of it still being able to get a great vibe from it all.
So after we got our fill of good food, good drink , good company and good music we started to get a little anxious that that "soon" time frame for Salif Keita's arrival would not ever come. Although I was a bit disappointed I totally understood…this was Keita's escape, a place where he could come and go and be with family and invited guests and he has earned the right to choose to come out and greet us or not. To be honest, I was already satisfied with the glimpse I caught of him as we entered the island. So our little crew (Mel, Leigh, Bil and Me) decide we would cross back over to the Bamako side of the river. As we were beginning to walk back to our boat the same gentleman that greeted us told us that Salif was ready to receive us now, but that there could be no pictures..fine by me… When get to Salif's bungalow he is engrossed in a phone conversation with his back to us. While waiting for him to finish I strike a conversation with Ismail (the Tracy Chapman singing brother) and he says in slightly giddy voice " I have never seen him either and I live here!"…to which Mel and I chuckle…then I tell Ismail this my first time to Mali and to West Africa and he smiles and look me directly in the eye and says "welcome home.(I will have to discuss this in more depth later)." I did not have much time to let those words sink before I heard a hearty "What's Up!?!? What's Up?" As soon as I turn around Salif Keita's hand is extended at me and gladly shake it and greet him briefly in Bamanankan and slide out of of the way. When I turn around the entire delegation of is in line behind me waiting to say their hello and greet Keita. On our way back across the river, I felt a very simple and pure sense of joy that I was open to crossing these waters in the first place, to the island today, to the country and to this continent…Yes "welcome home" indeed…
K'an ben seeni — See you soon in Bamanankan